New Homes Investments is an independent buying company focused exclusively in representing their clients in the acquisition of new build properties in London on their behalf. They monitor, identify, source and acquire exceptional new homes at the best negotiated prices for their retained clients. With access to thousands of new projects with planning permission already granted or under construction; New Homes Investments sit in a perfect position with 15 years of experience in the residential development sector.
Objectives of the website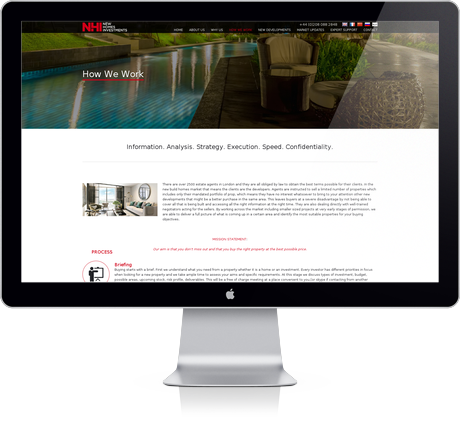 We specialise in a number of areas. Here are just a few of the key services that we offer.

Our approach was to focus on a site that required a straightforward and honest business approach that mirrored the philosophy of New Homes Investments. Easy navigation and simple but clearly stated menus were required to explain their vision and distinct work culture. User needed to visualise the development opportunities and individualistic approach through the website.

New Homes Investments offer sourcing and securing London's finest new build properties. Work process and contact information had to be clearly identified and easily accessible. The feel of the website needed to be not only contemporary, cutting edge, personal but also powerful and professional. The custom look has been designed by analysing the audience segment that would visit the site to find the services that NHI have to offer.

Integrating the desired information into the new website, our developers added Why Us, How We Work, New Development pages. In addition to this we added the cross rail map and stamp duty calculator as market updates, which can be helpful to visitors to find locations and stamp duty calculation respectively. The Multilingual functionality was added at the backend in order to have a site that was also available for other Geographical markets around the World.