We are a team of dedicated Italian Wedding Planners who simply love what they do. Based between London and Italy, we are a boutique wedding planning service for couples looking for that personal touch when organising their dream Italian wedding. We are passionate about organising and delivering memorable weddings for couples who live outside of Italy and want to experience a truly unique and personal Italian Wedding.
Objectives of the website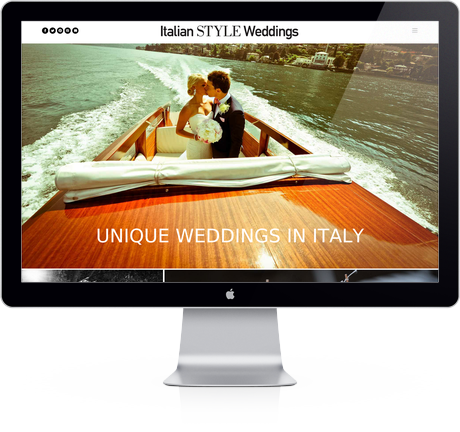 We specialise in a number of areas. Here are just a few of the key services that we offer.

They were looking for best wedding planner website with look and feel like glossy magazine. Secure and easy backend to manage existing content as well as to add new, they also requested for quick navigation to other pages form home page itself. The main requirement was less text content and more graphics, images with flashy effects. We developed this website with our best expertise.

The feel of the site needed to be like glossy magazine, eye catchy & simple to navigate. Our goal was to create a modern and advanced website with a clean and inviting look. We kept an optimised user experience with professionalism and elegancy. We incorporated all their services, portfolio as well as locations in order to properly fulfil the expectation of Italian Style Weddings.

Home page design with reference to all pages linking is required feature to be able to get the quick navigation in the website. Also they have received many reviews about their website from many satisfied clients. We provided a better navigation and greater visibility of information about best wedding locations & services to the visitors and improve the website's overall functionality.