Havio are a multi-disciplined Health and Safety Consultancy set up in 2009 and working nationwide. Their primary reason is to protect every individual who is affected by work. Changing the perception of Health & Safety, Havio are here to raise the standards & awareness across the industry.
Objectives of the website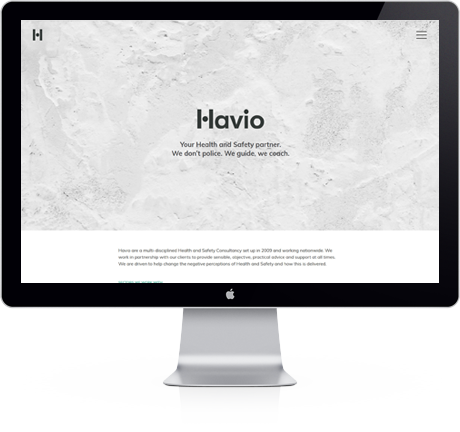 We specialise in a number of areas. Here are just a few of the key services that we offer.

As RHSS decided to move to bigger venture and rebrand themselves as Havio, they needed a website that would highlight their passion as H&S Consultants. They focused on a simple yet stronger web design to showcase their primary services and their quality of work. We developed a site which emphasised on visual brand storytelling with improved user experience

Havio was launching their new brand identity; the new design was fusion of clean & simple layout with fresh & subtle colours. Concise typography was used to evoke confidence & professionalism for their target audience.

The new Havio website is more powerful and provided more value to their brand's authority & credibility. The improved user experience helps users to quickly access the services offered by Havio and their engaging case studies highlights their dedication to quality of work.