Efficient Plumbing and Heating Ltd. is based in Essex and has been servicing surrounding areas for over 15 years. They are a team of Gas Safe Registered engineers with a wealth of experience. They provide all kinds of electrical, plumbing, boiler & bathroom installation services all under one roof. They ensure their work standards are modern and cost effective thereby providing complete peace of mind to their customers.
Objectives of the website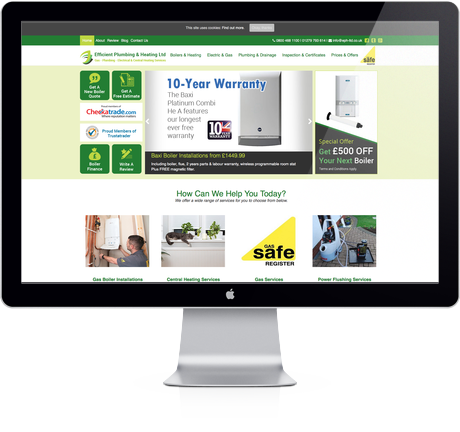 We specialise in a number of areas. Here are just a few of the key services that we offer.

Efficient Plumbing and Heating Ltd approached us for a website redesign that mirrored their philosophy. Service categories and contact information had to be easily accessible. They required a new website to illustrate the wide range of services offered by them. They wanted to make sure that the users could easily find the service that they were looking for at their nearest location.

Our goal was to modernise the existing website with a clean new look. We added service specific photos to complement the various service categories like Boiler installation/repair services, Gas Services, Bathroom installation services etc. We incorporated their logo colours of various shades of green throughout the website. Clear stated menus and content helped declutter the online experience for users.

We updated the look and created a website that is fully responsive across all devices. All the elements are accessible from the homepage including high level summaries of their services, latest offers on boilers, contact information and strong call to action buttons. Our SEO services will ensure they continue to stand out amongst their competitors.