About the company EM Lease is specialised in 6 month short term car leasing as well as 12 month long term car and van rental. They are focused on providing brand new cars on a 12 month short term lease basis to professionals and businesses (including start ups). At EM Lease your credit worthiness is based on their internal scoring system that only focuses on your present circumstances and your projected future as opposed to the standard credit scoring criteria that focuses on your history.
Objectives of the website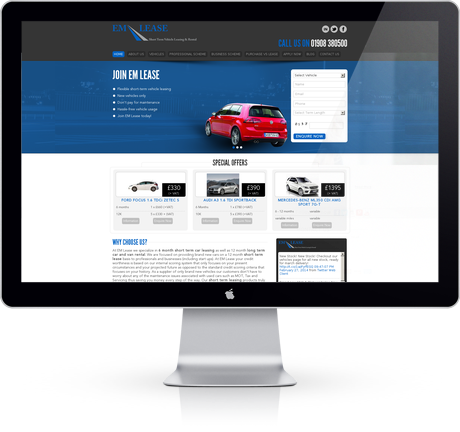 We specialise in a number of areas. Here are just a few of the key services that we offer.

We knew the expectations of EM lease from their existing website and got to work looking at the audience flows of prospectives that were visiting their site and begin building their journey. We provided EM lease with Storyboards to help them visualise the future website and experience how their users would interact.

In order to fulfil the expectations of EM lease from us, we worked around a blue colour theme along with white and black which conveyed the website's message very nicely to the visitors. The feel of the site needed to be Professional and elegant and provide a very sophisticated platform for the cars of EM lease. We provided a design with a touch of Professionalism and elegancy and optimised user experience.

In order to fully capitalise on the new website's fresh look, our developers kept the menu simple and effective to provide better navigation and greater visibility to the visitors and improve the site's overall functionality. We also continued our Online Marketing of the site through our comprehensive SEO campaign. After 2 months they saw an exceptional increase in the number of visitors booking and contacting them and their Visits to the site go from strength to strength.